Thursday, December 25, 1952
Swell Xmas – Sandra Jean & I had a Sandy a.m. again: She did wonderfully by me: sweatshirt, shorts, [illegible] tie, pens, etc. THen to Trella's at 11 (Sandra Jean at her mom's rest o'day)
Got electric shaver! & many nice things, her & for kids and Rockwells (dinner there): Then Trella & I to Terradise* – supper her house & 1. to GIll's at Galion for wonderful evening – John home. 2. & David – home late!
* FIRST MENTION OF Terradise as name for 18 acres near Caledonia.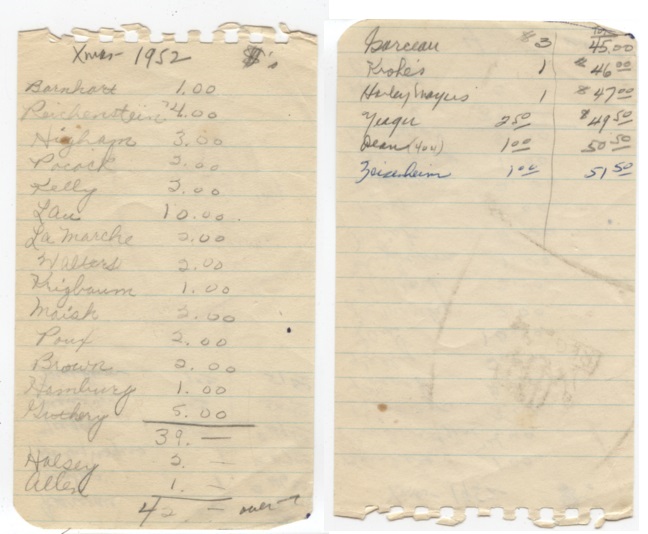 List [on notepad paper – this could be "tips" from mail route customers]:
Xmas 1952
Barnhart 1.00
Reichenstein 4.00
Higham 3.00
Pocock 2.00
Kelly 2.00
Lan 10.00
LaMarche 2.00
Walters 2.00
Krigbaum 1.00
Maish 2.00
Poux 2.00
Brown 2.00
Hamburg 1.00
Guthery 5.00
___________
$39.00
Halsey 2.00
Allen 1.00
__________
$42.00
Garceau 3.00
Krohes 1.00
Harley Mayers 1.00
Yeager 2.50
Dean 1.00 [this could be John Dean's family, as he grew up in Marion]
Zeisenheim 1.00
______________
$51.50